BOOKING ONLINE
Welcome to Holiday Home CSA
Surrounded by a pine forest of 60.000 mq, a short distance from the sea, the Holiday Home CSA wish to offer its guests a relaxing and fun holiday.
Divided in four circular and independent towers, the property has 85 rooms for two, three and four persons. Guests have at their disposal a wide parking and a beautiful beach of sand.
Holiday Home CSA is the perfect solution for families and young groups that wants to have fun and participate to the sport activities organized in the property.
Our Services
Restaurant
In the restaurant of the Holiday Home CSA are served breakfast, lunch and dinner.
For every meal, on the menu, there are only local products: km 0.
The breakfast buffet has sweet and salted food to please every palate. At lunch and at dinner is instead possible to choose between meat and fish dishes, hot and cold side dishes. Wine and dessert complete every meal.
Beach
The private beach of Holiday Home CSA extends for a hundred meters along the coast of Marina di Bibbona. The sand that covers it is fine and golden, soft to the touch.
The sea is crystal clear and calm, even perfect to let children play safely because the seabed is really low up to several meters from the shore.
It is a place of peace and relax where you can regain energy while diving in the sea.
Wi-Fi
The wi-fi connection is present in every room and in the common spaces. Even the open-air areas of the property are covered by internet.
Parking
Holiday Home CSA has a wide private parking completely free for guests and enough spacious for cars and tourist buses.
Psammotherapy
On the private beach there are special spots for the psammotherapy activity, best known as sand bath. The psammotherapy is a treatment as the thalassotherapy, but consists in bath of warm sand. The curative properties of the psammotherapy are based on the beneficial action due to the warmth of the micro-crystals of the sand.
Our reviews...
Luogo stupendo, rilassante, molto piacevole compagnia, ottima cucina, insomma... mi è piaciuto molto e spero di tornare l'anno prossimo!
Maria Angela
E' un posto meraviglioso come la gente che ci lavora... siete super bravi e gentili con tutti!
Marina
Previous
Next
The pine forest of Marina di Bibbona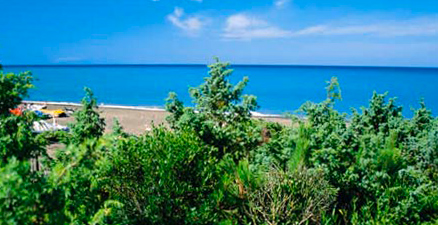 A true naturalistic jewel of the place, that covers about 430 hectares, is ideal for picnics, hiking, horseback riding, mountain biking, surrounded by the pleasant scents of the pines.